There's no place like home
Centre County has a growing reputation as a great place to launch a business because of its thriving innovation economy and robust entrepreneurial system – bolstered by its status as the home of Penn State University, and by the university's vital role in creating jobs and boosting economic development in the region.
Centre County is a place that combines a vibrant and growing economy with small-town friendliness and big-city amenities.
It's also a place where people get to know their neighbors and put down roots for generations.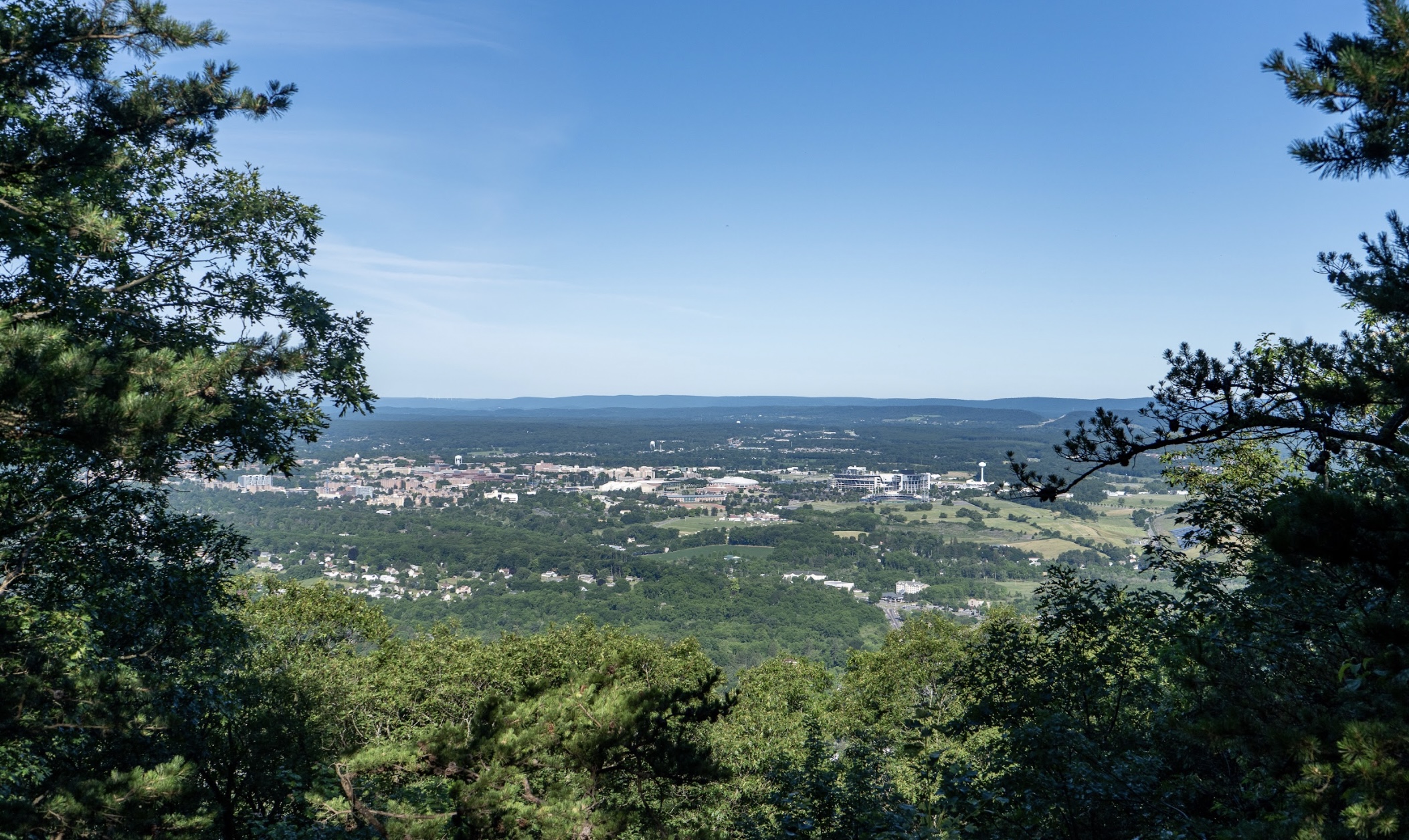 Mike Lynch Scenic Overlook on Mt. Nittany
With its strategic location at the geographical center of Pennsylvania and the Northeast, a rich cultural heritage, historic communities, abundant natural resources, a top-ranked global research university, award-winning school districts, and a job-ready workforce equipped to support future growth, it's no wonder Centre County is considered one of the best places in the country to live, work, learn, play, and do business.
Today, 158,000 people call Centre County home. The largest community is State College (population 40,000+), the home of Penn State University.
The Chamber of Business & Industry of Centre County, along with its Centre County Economic Development Partnership investors, is committed to launching, retaining and recruiting diversified businesses here.
The Chamber can assist with everything that's important to starting, growing and locating your business in Centre County.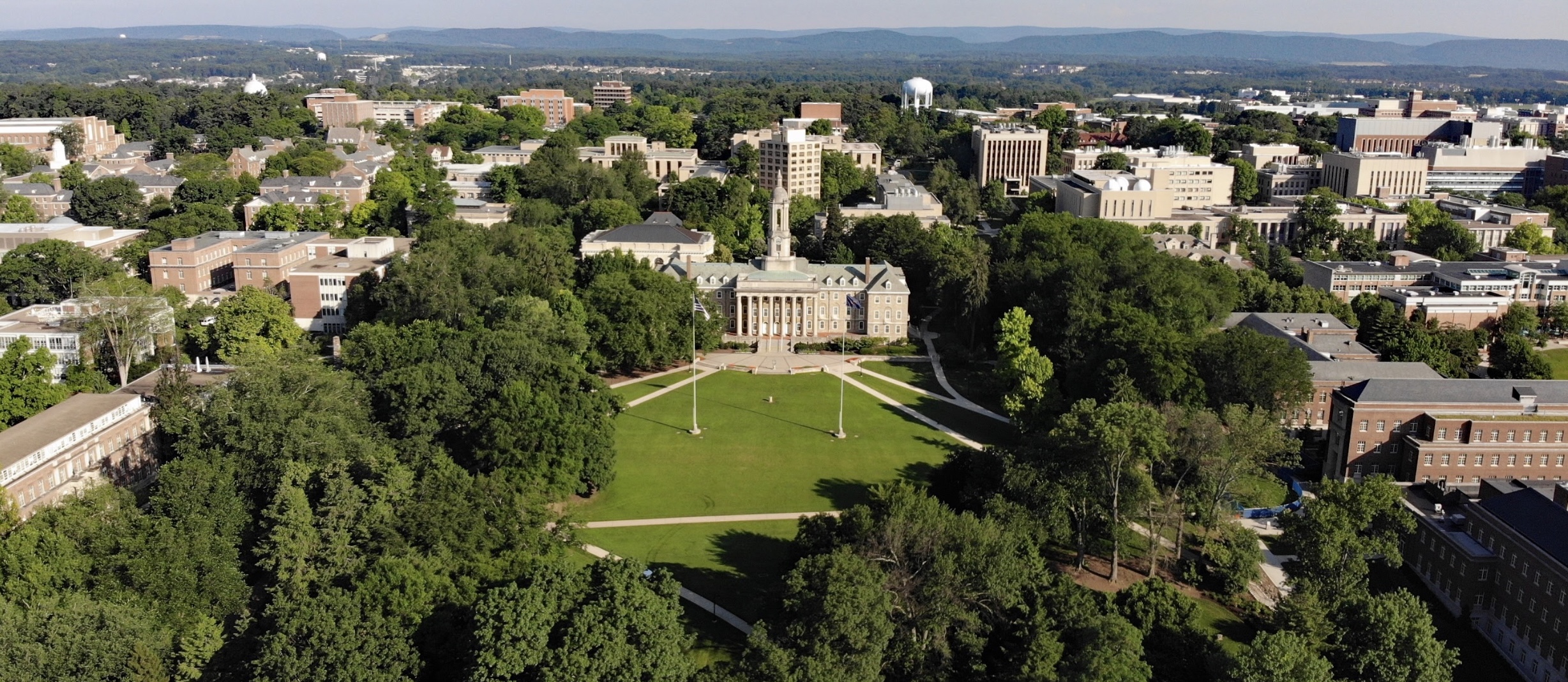 Old Main on the campus of Penn State University
Penn State is ranked 54th among the best universities in the world for the quality of education of its students, its exceptional programs in engineering, business and marketing, and the research prowess of its faculty.
With the main campus of Penn State as an economic driver of the economy in Centre County and resource partner, businesses in Centre County benefit from a skilled regional workforce, world-class research and a strong entrepreneurial support system, plus an attractive quality of life that includes beautiful natural resources and metropolitan cultural experiences combined with small-town charm.
Penn State drives job creation, economic development and student career success by connecting researchers with the people who can help bring their discoveries to the marketplace.
Companies like Boeing, Honeywell, GE and 3D Systems have already discovered the advantages of research partnerships with Penn State — access to state-of-the-art facilities and leading-edge researchers.
Sealing the deal is the university's favorable intellectual property policy for industry-funded research, which eliminates negotiations over IP rights.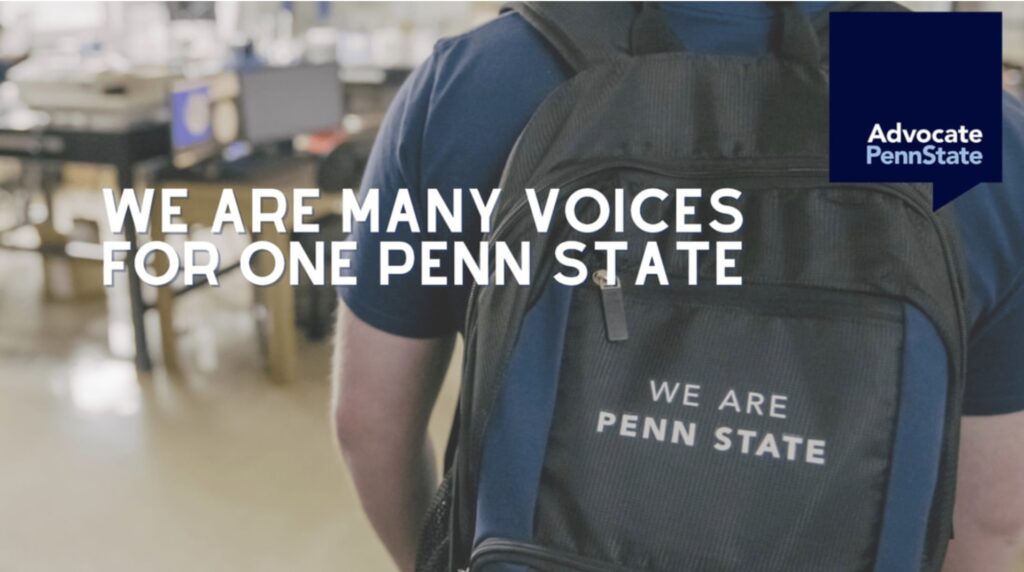 Make your voice heard and create a better Penn State.
As Penn State's advocacy network, Advocate Penn State connects members of the Penn State community with elected officials to share their stories of how a stronger Penn State means a stronger Pennsylvania. It is the easiest and most effective way to champion Penn State's value to the commonwealth's students, communities and economy.
Centre County's world-class companies are impacting global initiatives – from NASA technology to vaccines to sensors in automobile factories.
Private equity is investing in pharmaceuticals, video production, sensors, manufacturing, electronics, and other industries.
Among the diverse business base in Centre County are technology companies that are driving industry advances and driving innovation on a global scale. Home-grown technology companies are creating breakthroughs in the medical-device industry that are dramatically improving patient care. their products and services are reducing the cost and time associated with the drug discovery process.
Local companies are revolutionizing modern manufacturing. Companies here are developing transit solutions for nationwide customers. They are leaders in the development of media technology and in chromatography. These dynamic companies count among their clients some of the most recognizable corporate names in the nation, if not the world.
Centre County is proud to be the home of two Certified Benefit Corporations – West Arete, a home-grown custom software development company, and AE Works, a Pittsburgh-based architectural engineering firm. Centre County also boasts the nation's first Gold LEED certified distillery, Big Spring Spirits.
These companies are just a few standouts in a local business community committed to local sourcing, social and environmental responsibility and related best practices – from 1% For the Planet to being a certified Bicycle Friendly Business.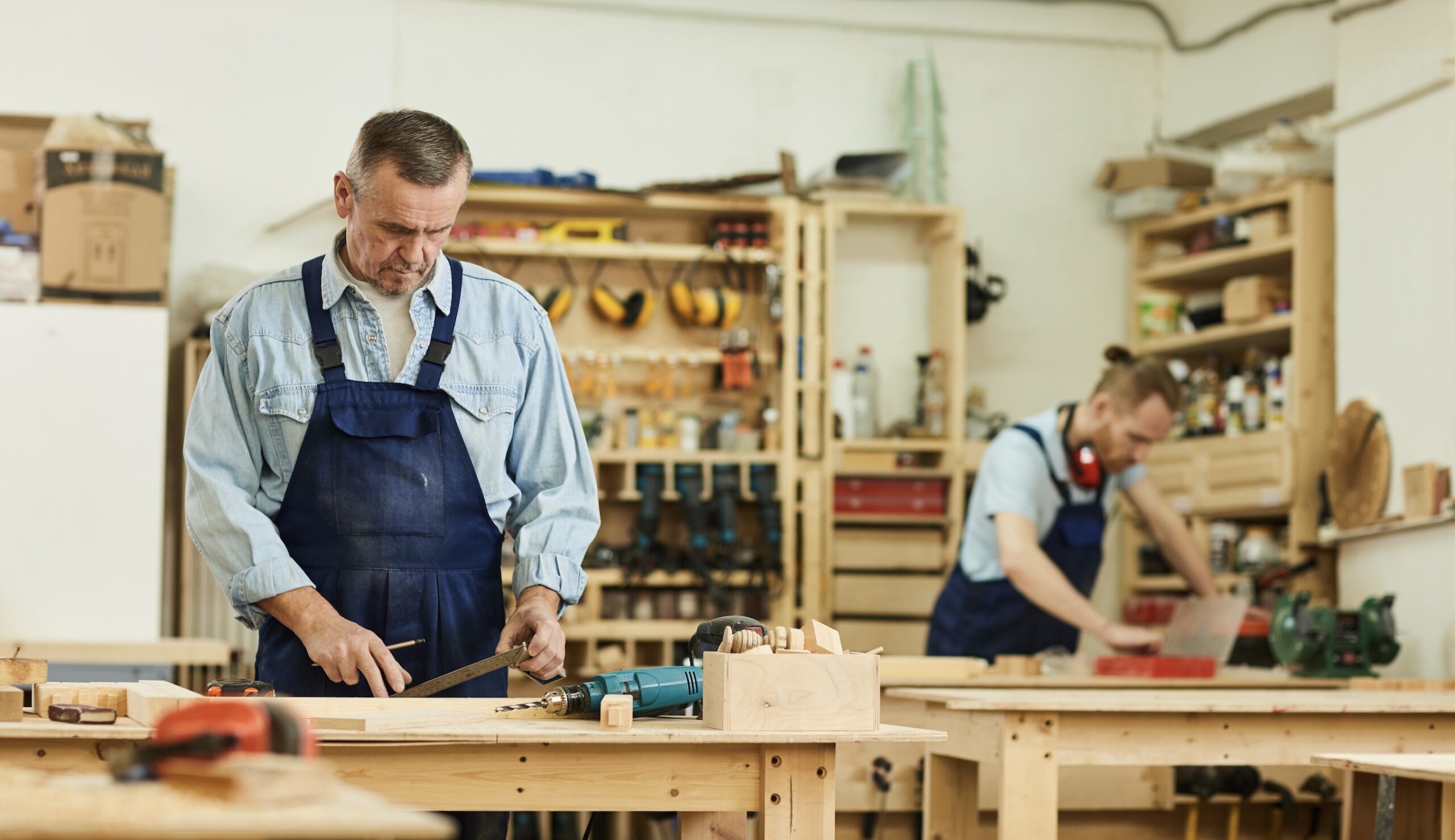 Centre County is home to an educated, skilled workforce that continues to grow.
More than 92.7 percent of adults have at least a high school education, and 40 percent have a bachelor's degree or higher.
Centre County is an importer of labor, drawing the bulk of its workforce from six surrounding counties and a total regional population of more than 400,000.
Centre County is a centrally located transportation hub for both Pennsylvania and the Mid-Atlantic region. A fly-easy airport, rail service and easy access to interstate highways make traveling convenient.
Centre County is just a short drive from four of the country's 10 largest metropolitan areas — New York City, Washington/Baltimore, Philadelphia/Wilmington/Atlantic City, and Boston. It's less than 200 miles from Philadelphia and Pittsburgh, and less than 100 miles from the state capital of Harrisburg. Highway travel is made easy via East-West (I-80) and North-South (I-99) interstate connections.
The University Park Airport (SCE, UNV for private flights) offers 10 daily scheduled flights to and from hubs in Chicago, Philadelphia, Newark, LaGuardia, and Charlotte.
United Airlines and American Airlines service the University Park Airport.
There is also access to a high-capacity transit system and freight and passenger rail service via nearby Lewistown, Huntingdon, Tyrone, and Altoona.
The North Shore Railroad Company & Affiliates comprises six short line railroads, including the Nittany & Bald Eagle Railroad, stationed in Bellefonte, PA. NSHR has been operating since 1984 and provides quality rail service to a variety of businesses and industries located in central Pennsylvania, running on 256.2 miles of track. The commodities the railroad moves in and out on the rails are as varied as the businesses themselves, and include aggregates, coal, grain, and plastics.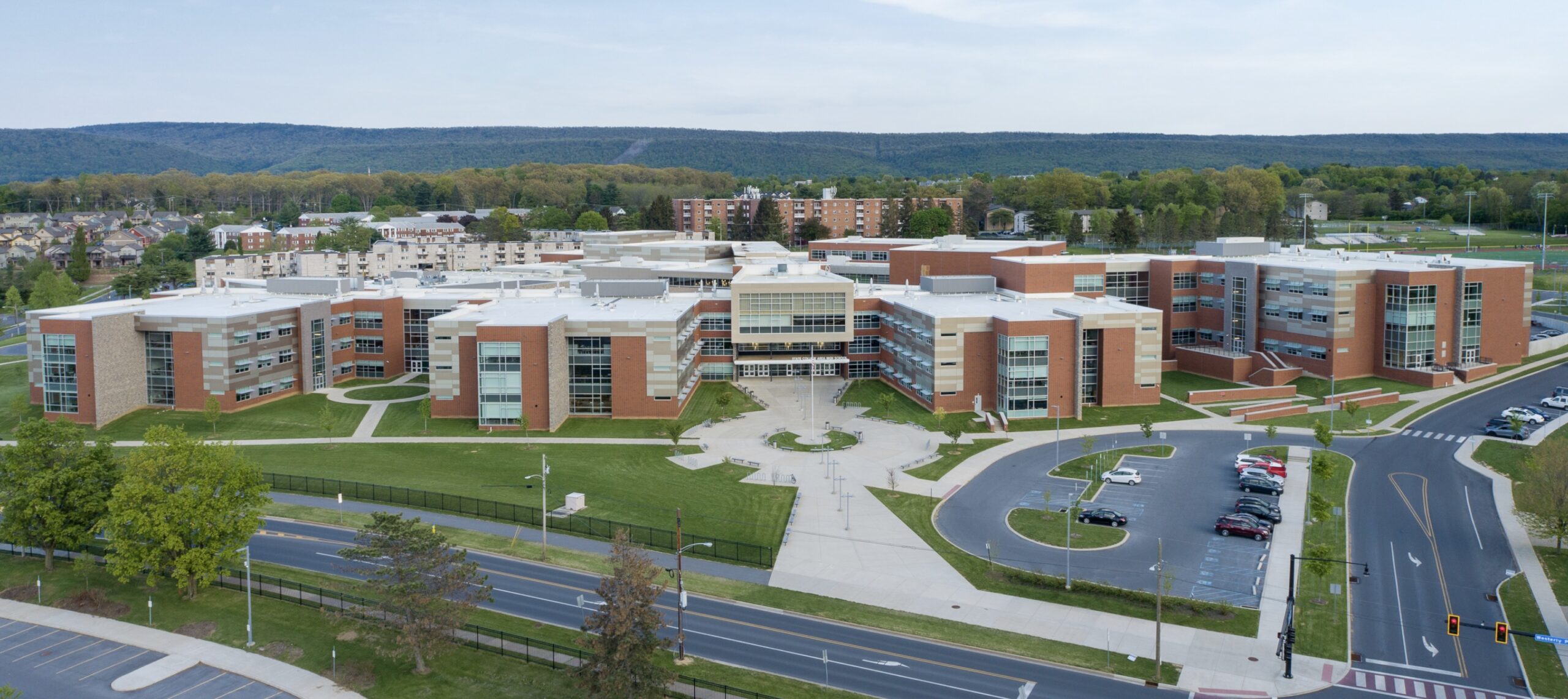 State College Area High School
The county is served by five public school districts, each consistently beating state averages in test scores and graduation rates.
Educational opportunities are also available through private, cyber and charter schools. Business and technical schools also play a vital role in the development of the region's skilled and educated workforce.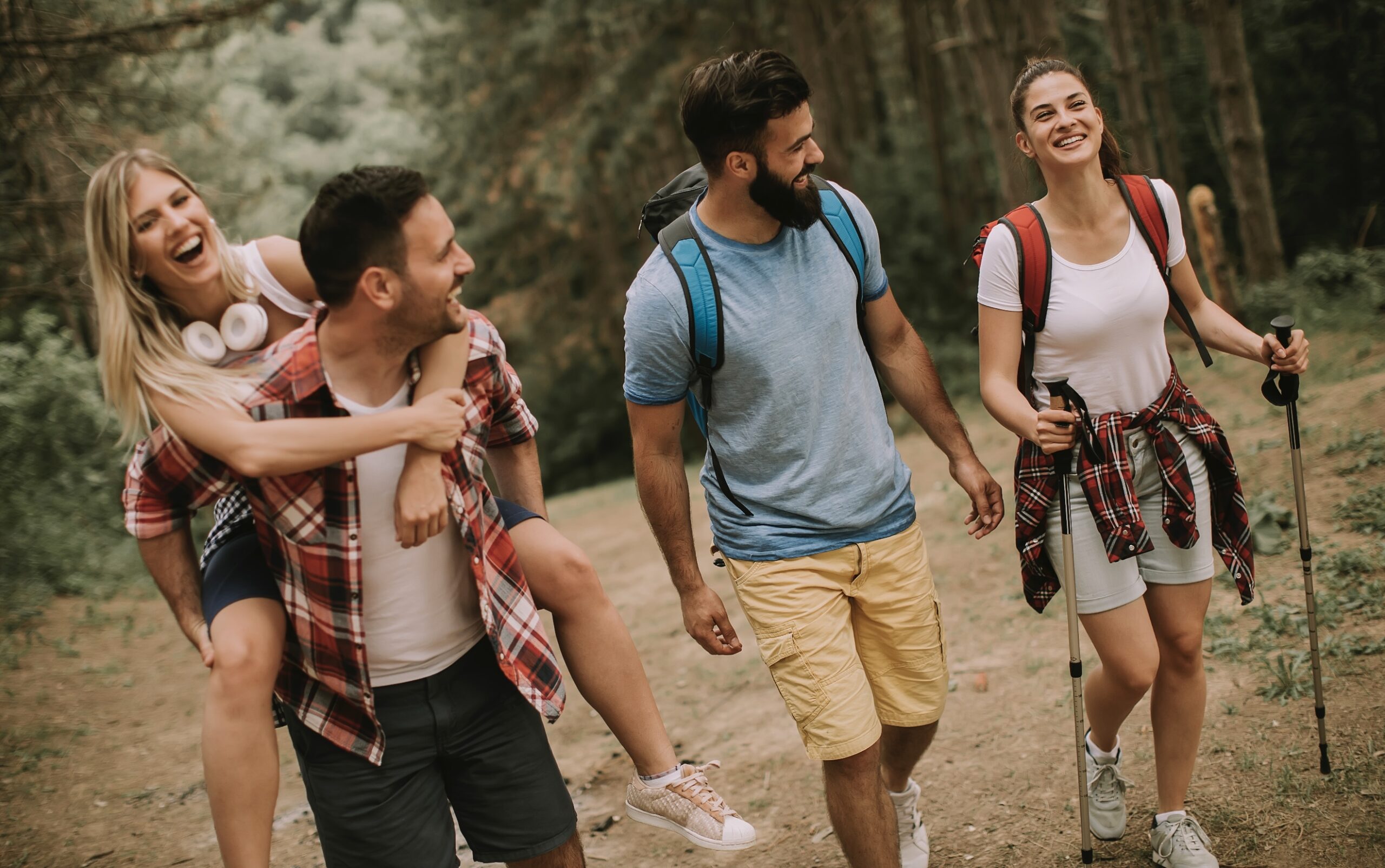 The National Geographic Society calls Happy Valley "Adventure Town" and it's easy to see why.
In Centre County, you can attend a Big Ten college football game, see a Broadway-caliber play, visit Amish country, view art exhibits, play in a golf tournament, enjoy equestrian activities, tour a winery, visit a museum, or take in a concert by a top-name performer.
There are more than 750,000 acres worth of public lands surrounding Happy Valley, making it the perfect base camp for your outdoor adventures. It's a great destination for biking, ATV rides, kayaking, downhill skiing, and camping.
You can hike a mountain, go fly fishing or explore the country's only all-water cavern and wildlife park – and still make it home in time for dinner.
Family, Friends, Fun, and Festivals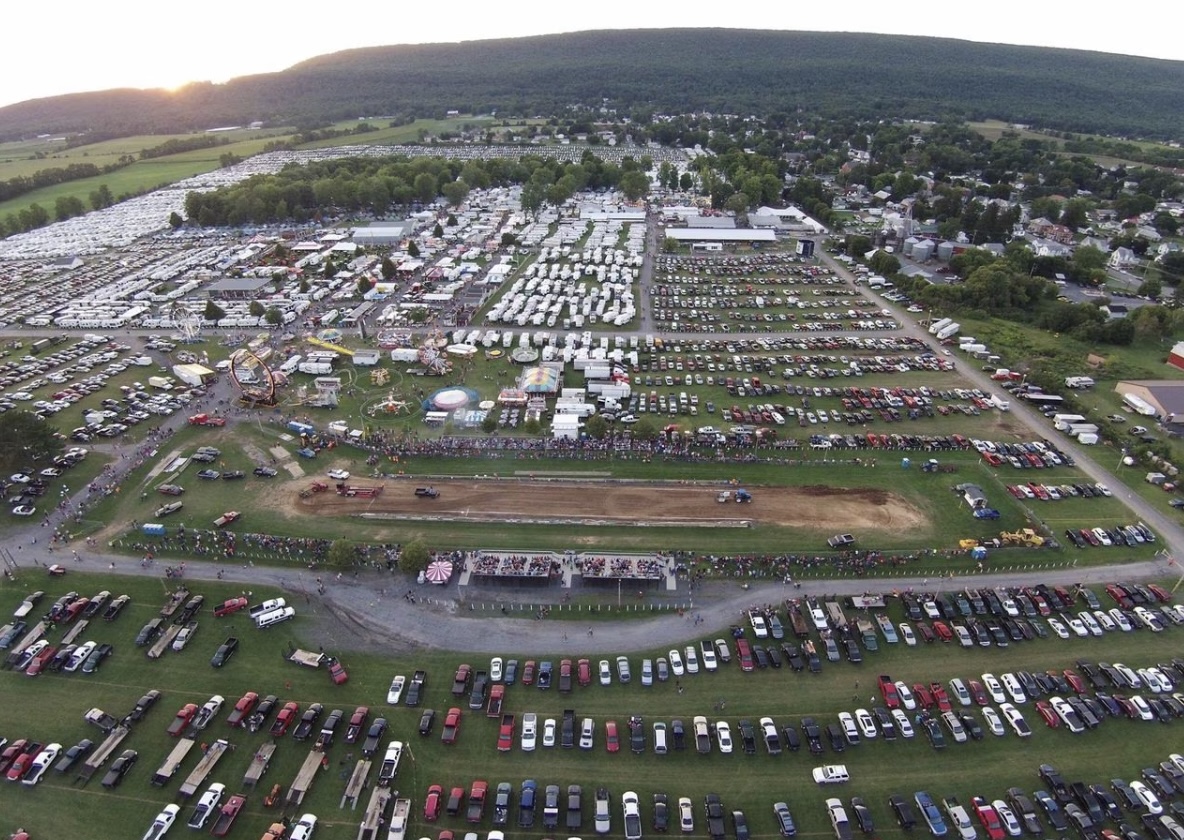 The fun begins in July with the Central PA 4th Fest, the largest volunteer-run fireworks display in the country.
From there, downtown State College transforms into an art and music lover's paradise during The Central Pennsylvania Festival of the Arts. The 'Arts Fest' was first held in 1967 and returns each summer to the main campus of Pennsylvania State University and the town of  State College. 'Arts Fest' is consistently ranked as one of the top outdoor fine art and fine craft shows in the nation.
The People's Choice Festival takes place the same week in July, while just over the mountain, Philipsburg celebrates Heritage Days.
In August, crowds flock to the Centre County Grange Encampment and Fair to experience the charm and nostalgia of the only remaining encampment fair in the U.S. The Grange Fair has been going strong for 149 years and for one week each year is a home away from home for people who take up residence in 1,000 tents and 1,500 RVs on 264 acres — the largest fairgrounds in the U.S. The fair includes more than 300 concessions, amusement rides, agricultural exhibits and contests, demonstrations, a parade, truck and tractor pulls, cooking demonstrations, horse shows, motorsports, crafts, square dancing, a quilt raffle, a fair queen contest, a lumberjack competition, and national entertainers on the grandstand each night.
Penn State's Ag Progress Days is also held in August. It's Pennsylvania's largest outdoor agricultural exposition and features 400 exhibitors from the U.S. and Canada.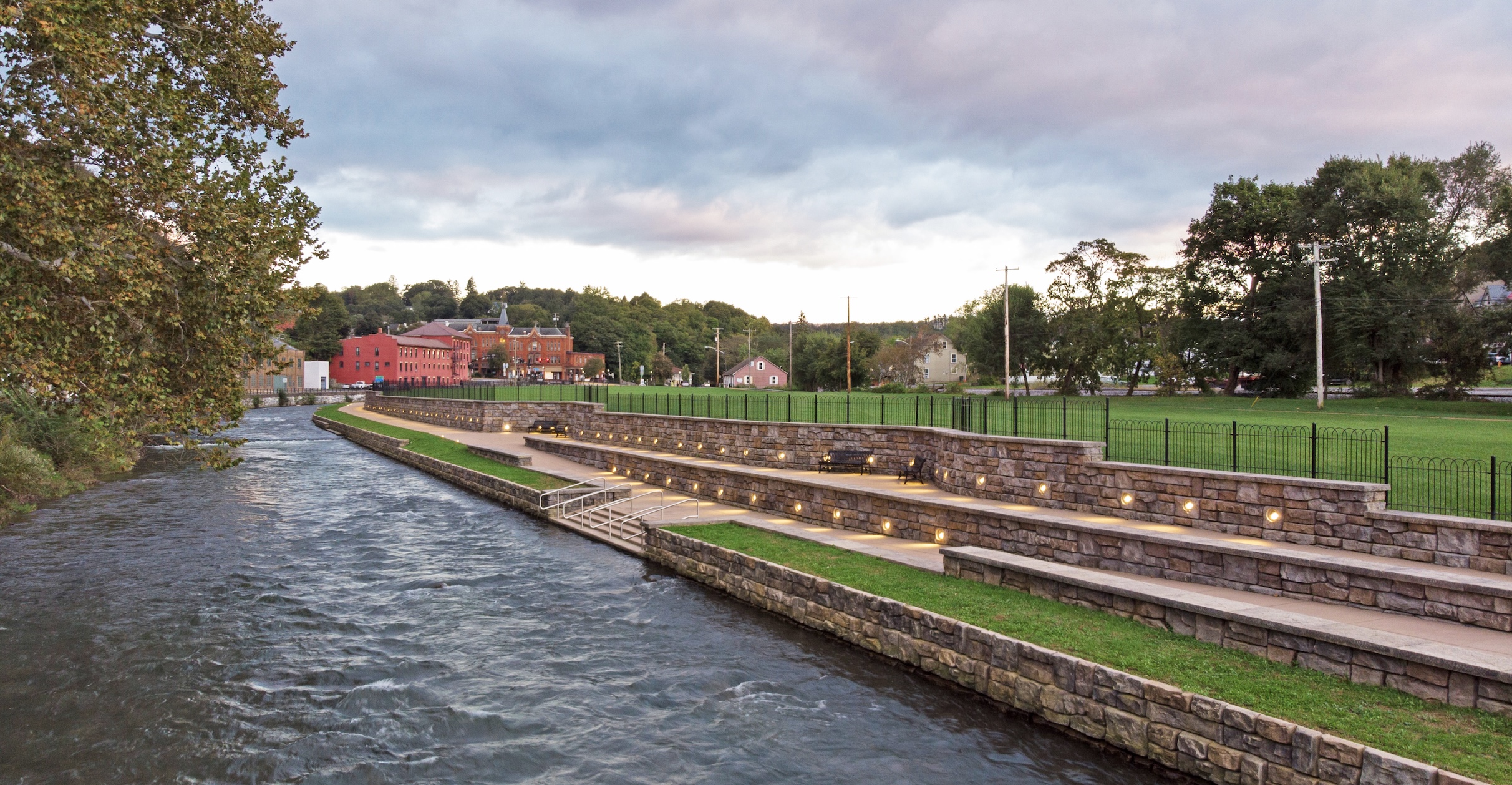 Centre County is affectionately known as "Happy Valley," and it's easy to understand why.
You'll find innovation, livability and fun here.
And you don't have to choose between economic opportunity and a fantastic quality of life.
From the ultimate college town of State College to Victorian Bellefonte, to colonial Boalsburg and charming Millheim, our larger towns and quaint villages offer something for everyone.
The people who call Centre County home enjoy a work-life balance that includes short commutes, a historically low crime rate, clean air, farm-fresh food, access to exceptional health care, all-season recreational activities in a breathtaking landscape, and a vibrant social and entertainment scene for people of all ages.
Centre County also strives to promote racial, religious and cultural inclusivity and is home to a variety of worship centers and diversity programs.